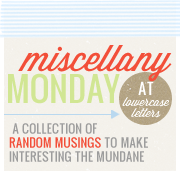 1. Celebrated my 12th wedding Anniversary on Friday.
2. Had bad experience at one of our favorite places to eat so no going there anymore. :(
3. Got to go swimming a couple times this weekend so that was wonderful.
4. I spent some quality time with my boys.
5.Missing the hubby with his crazy work schedule.
6. Doing some "volunteer" work with an amazing organization for Military Wives.