Thursday, December 20, 2012
I have decided to go ahead and purchase a domain along with adding a wordpress blog to it. I am in the process of working on the website, making choices, and trying to get a few questions answered. Hopefully come January 1, I can go live with the new website and blog.
I will keep everyone up to date as I can over the next few weeks. I will post as soon as I can the new link for you all to visit to be able to read my blog.
I will be updating all my accounts for various things with the new website info as soon as I can.
Stay tuned!
I participated in the "Its Giving Season Gift Swap" over at @
Messy Dirty Hair
&
Jana @ perceptioniseverything
&
Tabitha @ my-cliffnotes
.
I was the Secret Santa for Sara @
Miss V's Busy Bees
. Sara, I hope you liked everything you got. I was kind of stumped at what to get for you but I enjoyed bringing you some holiday cheer.
I got my gifts from my Secret Santa and I wanted to share with you.
My sweet secret sister got me a some bath & body works bubble bath/shower gel in Japanese cherry blossom, a foot scrubbing brush, a loofah, a candle, and some peppermint Hershey kisses. It all came in this cute little snowflake bag.
Thank you secret sister! I absolutely LOVE everything and my kids enjoyed the Hershey kisses with me. :)
Monday, December 17, 2012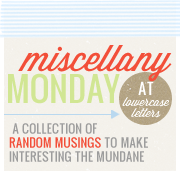 It has been a while since I particpated in a Miscellany Monday, so I thought I would jump in this week.
1. I am looking forward to one last week of quiet during the day till my kids are back to school on Jan 2nd.
2. I am looking forward to some quiet time with the hubby during Christmas since the kids will be with grandma for a few days.
3. I am looking forward to seeing the kids open their christmas gifts.
4. I am looking forward to our Christmas eve tradition of watching Rudolph the Red Nose Reindeer & other claymation movies. Then we we read the story about Jesus and his birth, the whole real meaning of Christmas.
5. I am looking forward to our Christmas morning tradition of cinnamon rolls and hot chocolate. Then we open presents. We are having my parents over here this year since we are home for the holidays this year. So we are having turkey & dressing, yams, pumpkin pie, deviled eggs made by my mom, rolls, I may make some salad too. We will see how things go on Christmas morning.
6. I am also looking forward to spending time with my family especially with what has been happening recently.